DFSK Glory 580: The Best SUV of IIMS 2018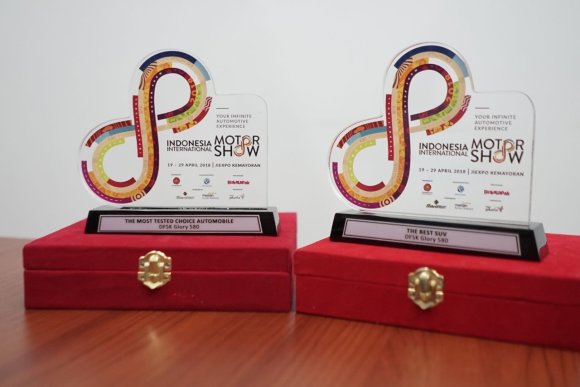 Jakarta, 28 April 2018 – Appearing as a newcomer in the Indonesian automotive market, City SUV 7-seats DFSK Glory 580 immediately kicked off by winning as The Best SUV at IIMS 2018 presented by PT Dyandra Promosindo. Although just debuted on the opening day of IIMS 2018 on April 19, 2018, but the DFSK Glory 580 is able to present the quality, completeness of features, worry-free warranty and competitive price for consumers in Indonesia. Not only that, Glory 580 also became the most tested models in the IIMS 2018 test drive area and received The Most Tested Car awards.
This award was handed over directly by Hendra Noor Saleh, Project Director of IIMS 2018 to Franz Wang, Managing Director Sales Centre of PT Sokonindo Automobile. The Best SUV award comes from the judges' assessment of senior automotive journalists from Indonesia and Thailand. Some of the parameters that become points of assessment include attractive designs, excellent features and value for money.
The Best SUV title became one of the proofs that Glory 580 has been accepted in the Indonesian automotive market. "Glory 580 is currently one of the most tested cars here in IIMS 2018. This award became the first approval for Glory 580 received from the Indonesian market and will be an encouragement for us to do better and better," Franz said.
Glory 580 is present in Indonesia by carrying a special advantage compared to other SUV-SUV in its class. Starting from the quality of its products made in the factory with the concept of Industry 4.0 in Cikande, Serang, Banten, Glory 580 made by local Indonesian workers with global quality standards. "Glory 580 is a global strategy model of DFSK, with the right hand drive version is firstly launched in Indonesia," Franz stated.
From a design perspective, the Glory 580 is designed by the international design team of DFSK that has become part of leading brands in Europe and the United States. Glory 580 features a progressive exterior design. Eagle-eye headlamps with LEDs Day-time Running Lights (DRL) reflect modern design philosophy.
Glory 580 has a modern engine with a choice of 1.8 liter engine or 1.5 liter engine with turbocharger that has a perfect balance between power and fuel consumption. In addition, some smart features are also embedded, such as smartkey, electric sunroof, tire pressure monitoring system, vehicle running recorder and rear camera including five-star safety assurance with the presence of ABS, EBD, BA to Electronic Stability Program (ESP), as well as over 200 noise control points and vibration (NVH). "All of them will provide a comfortable, fun and unforgettable Glory 580 driving experience," Franz added.
In addition to the technical specification advantages, Glory 580 also offers a Super Warranty 7 years / 150,000 km in Indonesian market, where the warranty period, warranty range, and warranty value provided by Glory 580 creates the highest standards for the Indonesian automotive industry. This Super Warranty coverages includes all major components of the body, engine and transmission as well as the main components of chassis, electrical and some accessories parts.
During IIMS 2018, DFSK Glory 580 consumers can also get cash back of Rp 15 million just by giving a Rp 5 Million as a booking fee.
***
About PT. SOKONINDO AUTOMOBILE
PT SOKONINDO AUTOMOBILE is a joint venture of Sokon Group (HongKong) company Limited and PT. Kaisar Motorindo Industri from Indonesia, specializing in automotive manufacture. Previously, Sokon Group had teamed up with Dongfeng Motor Corporation, an automotive company owned by Chinese government that markets a product with DFSK brand at global market.
In Indonesia, PT Sokonindo Automobile is also the Sole Authorized Agent of DFSK passenger cars and sell 7-seat City SUV, DFSK Glory 580. Products that manufactured in a modern factory with the principle of Industry 4.0, in Cikande, Serang, Banten, became the first in Indonesia to offer a super warranty of 7 years/150,000 km. In the future the Sokonindo plant will bring more attractive SUV models not only to the Indonesia market but will be also exported to Southeast Asia market as well as other worldwide markets.