Jakarta Fair Kemayoran 2018: "DFSK Brings Flagship Products"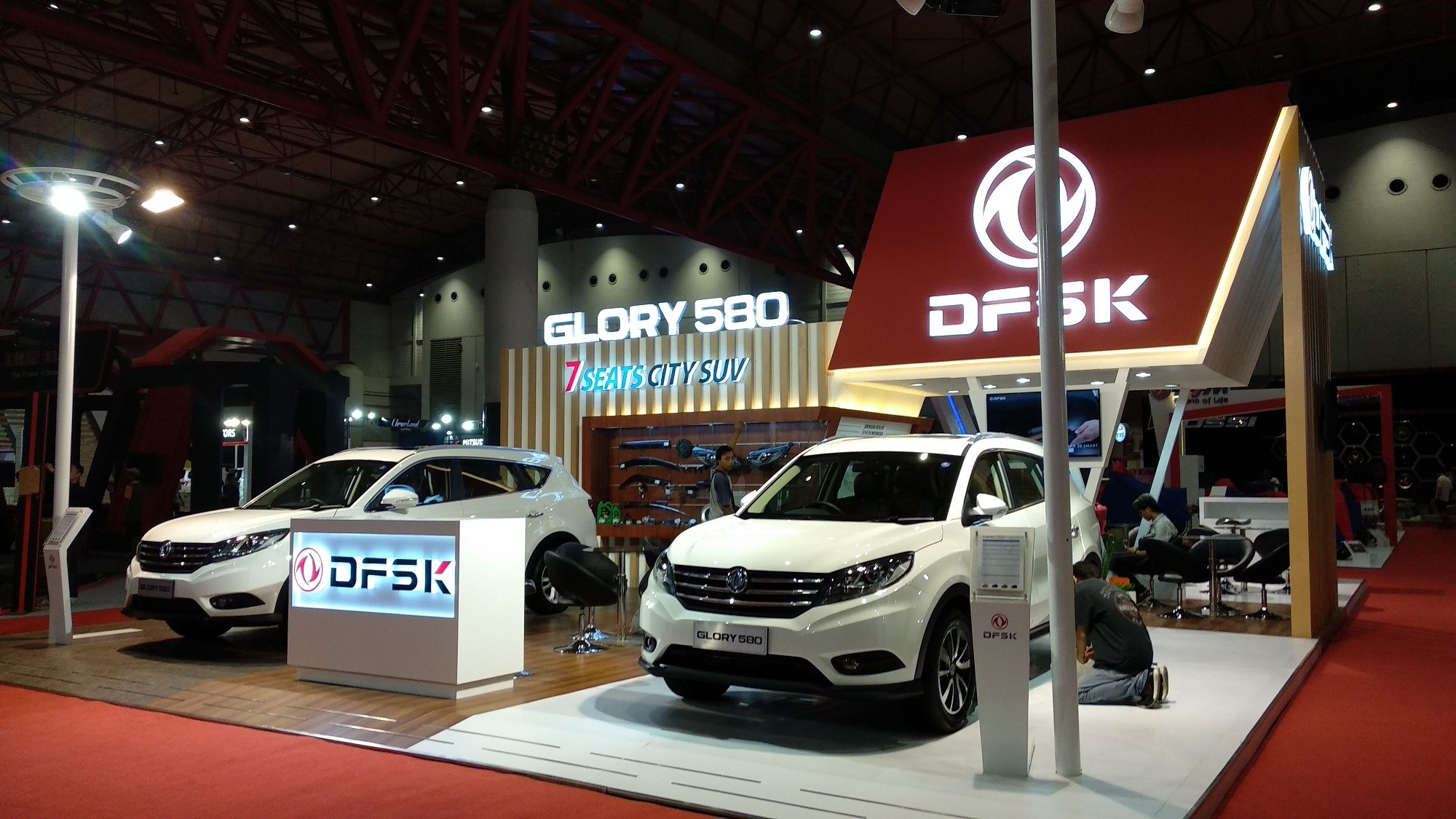 JAKARTA – May 23, 2018 – After successfully introducing its flagship products in IIMS 2018, DFSK again present to greet the consumers in Jakarta Fair Kemayoran (JFK) 2018, which is held from May 23 to July 1, 2018. DFSK booth will take place at B2 hall of automotive JIEXPO Kemayoran Jakarta.
"Since our presence in Indonesia got a positive response, it keeps us motivated to continue delivering quality products. We will also continue to get closer to Indonesian consumers, one of them through the Jakarta Fair Kemayoran 2018 event. It is a good opportunity for us to participate in this event, we can meet directly our potential customers and give them the trust of our product." Said Franz Wang, Managing Director of Sales Centre PT Sokonindo Automobile.
Occupying a land area of 140 m2, DFSK features (three) units of its flagship product DFSK Glory 580 with 1.8 L Comfort type of manual transmission 5-speed transmission and 1.5 L Luxury type automatic CVT transmit. In addition, DFSK also presents Super Cab 1.5 L gasoline a pick-up car with 3 passengers with a stylish look, strong and stable.
DFSK Glory 580 City SUV 7-seats, has various advantages such as 1.5-liter turbocharged engine, CVT transmission, comfortable cabin with leather seats, 10-inch audio system (Luxury type), and using Electronic Parking Brake (EPB). For safety assurance, DFSK Glory 580 is also equipped with ABS brake system, EBD and Brake Assist, plus ESP and 4 airbags in the cabin (Luxury type).
No doubt positive response also came from the price offered for DFSK Glory 580 at the time of introduction in IIMS with a range of 220-350 million Rupiahs. During the event JFK 2018, DFSK Glory 580 will be priced at a special price that is Glory 580 1.8 L Comfort 5M T Rp. 245.900.000, Glory 580 1.5 Turbo Comfort CVT Rp. 282.000.000, Glory 580 1.5 Turbo Luxury 6M/T Rp. 295.000.000 and Glory 580 1.5 Turbo Luxury CVT Rp. 308.000.000 all with on the road price of Jakarta.
In addition to the superior features of the product offered, DFSK Glory 580 also offers super-warranty advantages of up to 7 years / 150,000 km which includes warranty period, warranty coverage and warranty value that creates the highest standards for the Indonesian automotive industry. Coverage of the warranty almost covers all parts of the vehicle starting the main components of the body, engine, and transmission.
DFSK Sales Program in Jakarta Fair Kemayoran 2018


The implementation of JFK 2018 which coincides with the Holy Month of Ramadan is making a good moment to provide benefits for consumers and prospective customers DFSK. The sales program offered during JFK 2018 with Glory Vaganza headline runs from May 23 to July 1, 2018.
During JFK 2018, consumer can have DFSK Glory 580 by paying booking fee worth 5 million Rupiah and earn interesting and special cash back during the event. Not only that, buyers can directly follow the lucky dip worth a total of hundreds of millions Rupiahs, one of the price is Iphone X.
For Super Cab get lucky dip directly worth a total of hundreds of millions Rupiahs by booking a fee of 5 million rupiah.
***
About PT. SOKONINDO AUTOMOBILE
PT SOKONINDO AUTOMOBILE is a joint venture of Sokon Group (HongKong) company Limited and PT. Kaisar Motorindo Industri from Indonesia, specializing in automotive manufacture. Previously, Sokon Group had teamed up with Dongfeng Motor Corporation, an automotive company owned by Chinese government that markets a product with DFSK brand at global market.


In Indonesia, PT Sokonindo Automobile is also the Sole Authorized Agent of DFSK passenger cars and sell 7-seats City SUV, DFSK Glory 580. Products that manufactured in a modern factory with the principle of Industry 4.0, in Cikande, Serang, Banten, became the first in Indonesia to offer a super warranty of 7 years/150,000 km. In the future the Sokonindo plant will bring more attractive SUV models not only to the Indonesia market but will be also exported to Southeast Asia market as well as other worldwide markets.