Media Test Drive DFSK Glory 580: "Super Driving Experience with DFSK Glory 580"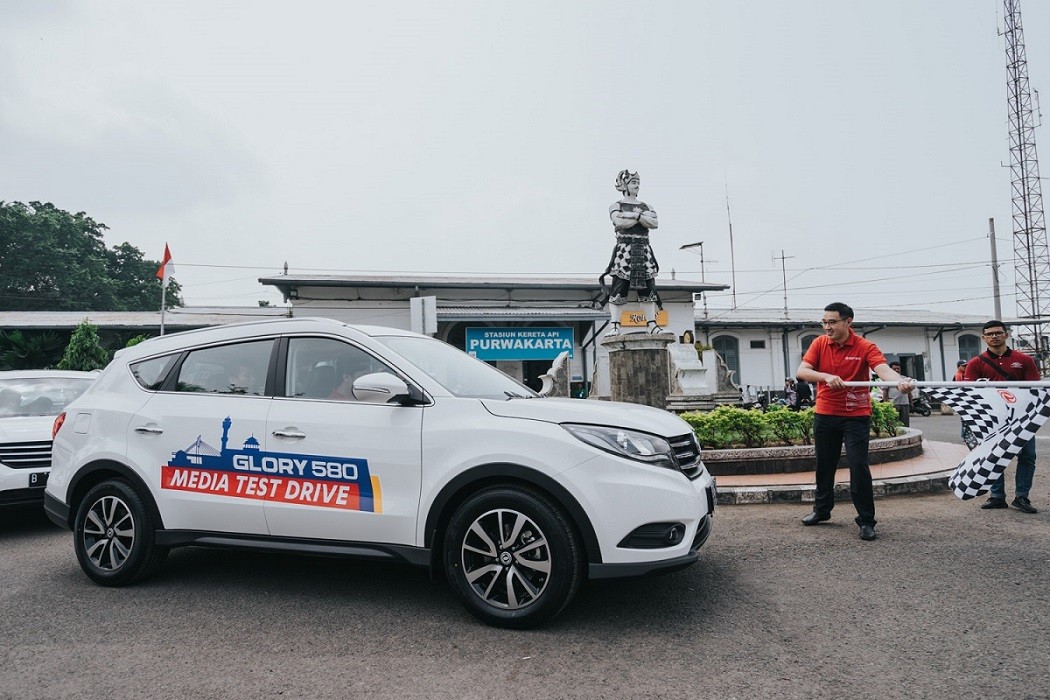 Bandung-June 5, 2018 – After achieving a special achievement in Indonesia International Motor Show (IIMS) 2018, this time the quality of driving the 7 passengers City SUV DFSK Glory 580 can be directly felt by the journalists in the series of activities in the Media Test Drive in Bandung for two days, June 5-6 2018. On this occasion, the journalists can feel directly the various advantages offered by DFSK Glory 580 including the flexibility of the cabin, comfort, modern features to its performance.


A total of 17 units DFSK Glory 580 1.5 L Turbo type Luxury & Comfort is prepared to accompany 40 media that participated in the Media Test Drive event this time. "We have prepared two types of our flagship city SUV, Glory 580 1.5 L Turbo Luxury & Comfort CVT automatic transmission type and Manual 6-speed to be tried by the media. Street conditions in the hilly city of Bandung with the density of traffic like big cities in Indonesia we think is enough to represent the character of DFSK Glory 580 consumers as a City SUV, "said Franz Wang, Managing Director of Sales Centre, PT Sokonindo Automobile.
Internationally renowned, award-winning
In its home country, since its first launch in June 2016, in less than 2 years DFSK Glory 580 has been sold more than 400,000 units, and successfully to be exported to Egypt, Chili, Colombia and 20 other countries. World recognition also led DFSK Glory 580 won numerous awards since its emergence in China, such as DFSK Glory 580 won the Gold Award of 2017 Best SUV from China Automobile Association and Medias, furthermore DFSK Glory 580 1.5 L Turbo CVT also won the "Top Ten" engine from China Automobile Industry Association.
In the event of IIMS 2018 ago, DFSK Glory 580 successfully won the Best SUV IIMS 2018. DFSK Glory 580 SUV is considered capable of presenting the quality, completeness of features, worry-free warranty and competitive prices for car consumers in Indonesia. Not only that DFSK Glory 580 is also the most widely tested model in the area of Test Drive IIMS 2018 and earned the title of The Most Tested Choice Automobile.
Three Core Strengths, Shining in Indonesia
DFSK Glory 580 is present in Indonesia with special advantages over other SUVs in its class. Starting from the quality of its products made in the factory with the concept of industry 4.0 in Cikande, Serang Banten. DFSK Glory 580 made by Indonesian worker with global quality standards combining it with local wisdom to ensure the quality of DFSK Glory 580. The international standard factory with 'smart factory' concept comes with three core strengths: "Super Space, Super Driving Experience, and Super Warranty" in which not only exceeding its peers, but also fully exceeding consumer expectations.
Super Spacious: Glory 580 body size to achieve the best in class, the car length, width and height are 4680mm/1845mm/1715mm, wheelbase up to 2780mm, depth of 390-2040mm so that Glory 580 has far ahead of the size of the same class of cars, do All-in-one enjoys super space advantages. Up to 30 in-vehicle storage spaces to allow consumers to enjoy convenience. In addition, the 2+3+2 seat layout allows users to flexibly change according to their own needs.
Super Driving Experience: in terms of power, the Glory 580 is equipped with a naturally aspirated 1.8-liter turbocharged engine and a 1.5T turbocharged engine. Its maximum output power reaches 102kW and 110kW, respectively. The chassis has been accurately tuned by an international team of experts, fully adapting to various complex/extreme operating conditions, and controlling more than 200 body NVH mutes. At the same time, the Glory 580 is also equipped with the most extensive security and smart configuration of its class: ABS anti-lock brake system, EBD brake force distribution system, EBA brake assist, EPB electronic parking system, HHC uphill assist function, TPMS tire pressure monitoring system, driving recorder, reverse camera parking, 10-inch smart touch screen, integrated leather multi-function steering wheel, smart key, electronic handbrake, etc., make the Glory 580 becomes the safest and most intelligent in the same segment market to fulfil the "Super Driving Experience."
Super Warranty: in addition, Glory 580 provides users with 7 years / 150,000 km long vehicle warranty. Not only that, in the procurement of parts and components, DFSK has cooperated with world-class suppliers such as Bosch, TRW, Delphi, and Yanfeng Johnson, etc., and at the same time, improve its manufacturing standards and provide a solid backing for the quality of the Glory 580.
First in Indonesia, Super Long Worry-free Warranty of 7 years/150.000 KM
In addition to excellence in technical specifications, DFSK Glory 580 offers Super Warranty excellence up to 7 years / 150,000 km in the Indonesian market, where the warranty period, warranty coverage, and warranty value provided by DFSK Glory 580 create the highest standards for the Indonesian automotive industry. Warranty coverage includes virtually all major components of the body, engine and transmission as well as the main components of chassis, electrical and some accessories parts. In addition, the 7 years/150,000 kilometer warranty is provided by dealers at all levels of the country. All parts are original parts from the factory, and the professionalism is higher and the quality is more secure. "Super Warranty" is the most comprehensive, most sincere, and deserve it.
DFSK Ramadhan and "Mudik" Campaign
In order to face the homecoming (mudik) season in Idul Fitri 1439 H, DFSK Indonesia also does not miss service program for customers of DFSK Glory 580 SUV. DFSK Ramadhan Campaign, DFSK sales and after-sales team builds sales service post and after sales service from 10 to 17 June 2018 at 3 points in the homecoming route in Java Island. The point is in Nagrek KM 36, Rest Area Toll Cipali KM 102 and Rest Area Toll Ungaran KM 22. The travelers can enjoy the various comforts offered such as massage, snack and interactive games. Specifically for DFSK Glory 580 owners can avail free check-up and service.
"As part of our commitment to deliver quality products and services to DFSK consumers in Indonesia, during this year's Lebaran holiday season we also ensure that our customers will get the best sales and after-sales service along the homecoming route," Franz said. According to him, although the population of DFSK Glory 580 has not been much, the presence of DFSK Indonesia service post in this homecoming route also gives a sense of free worries for the owner of DFSK Glory 580 when traveling back and forth.
***
About PT. SOKONINDO AUTOMOBILE
PT SOKONINDO AUTOMOBILE is a joint venture of Sokon Group (HongKong) company Limited and PT. Kaisar Motorindo Industri from Indonesia, specializing in automotive manufacture. Previously, Sokon Group had teamed up with Dongfeng Motor Corporation, an automotive company owned by Chinese government that markets a product with DFSK brand at global market.
In Indonesia, PT Sokonindo Automobile is also the Sole Authorized Agent of DFSK passenger cars and sell 7-seats City SUV, DFSK Glory 580. Products that manufactured in a modern factory with the principle of Industry 4.0, in Cikande, Serang, Banten, became the first in Indonesia to offer a super warranty of 7 years/150,000 km. In the future the Sokonindo plant will bring more attractive SUV models not only to the Indonesia market but will be also exported to Southeast Asia market as well as other worldwide markets.