Worry-Free 7 years/150.000 km Super Warranty is Coming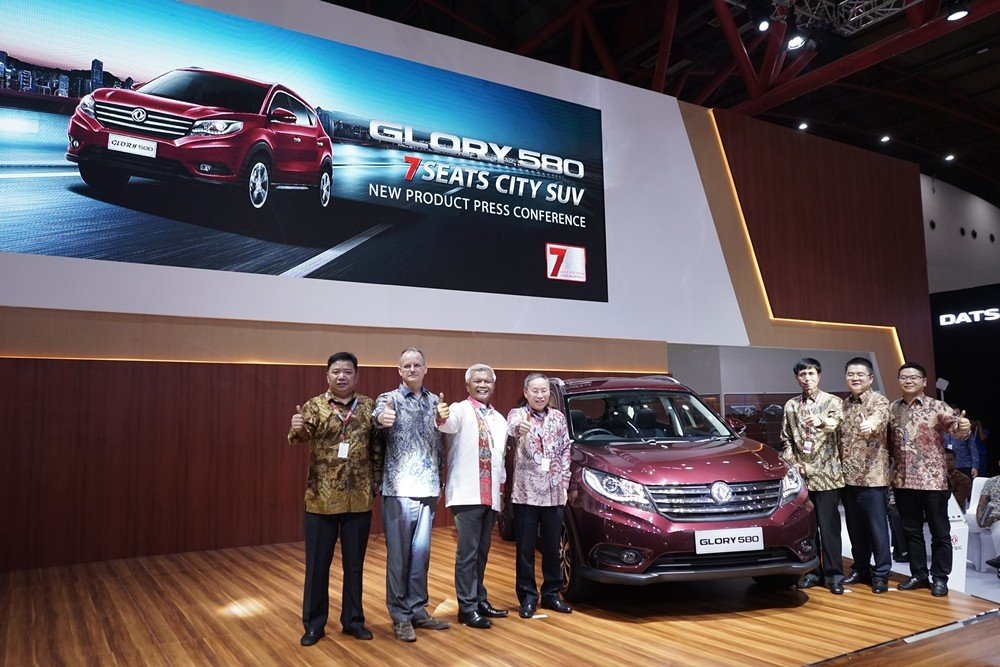 GLORY 580 presenting in IIMS pioneering provide worry-free super warranty in Indonesia.
Integrated with the comprehensive advantages of international technology, a multinational R&D platform, international supply chain, and international trend design.
The new model is manufactured locally based on the design concept 'Industry 4.0' technology standard, making users more reassured.
GLORY 580 will develop its intelligence, successively matching advanced technology such as intelligent network connection and smart driving.
The new model has coprehensive advantages of 7 seats flexible space, various intelligent equipment, 5-star safety assurance, etc.
Provide two power train and two transmission, with price range Rp. 220-350 millions, start pre-booking now.
On April 19th, the 2018 Indonesia International Motor Show (IIMS) was opened in Jakarta. DFSK released its first global strategic SUV model GLORY 580 RHD version, pioneering the creative 7 years/150.000 km super warranty in Indonesian automobile market. The new model is integrated with international leading technology advantages, manufactured by SOKONINDO factory, which is built according to the 'industry 4.0' design concept, providing two kinds of power trains 1.8L and 1.5T and manual transmissions, with CVT automatic transmission as options, with price range Rp. 220 - 350 million, and pre-booking accepted now. In addition, intelligent network connection, smart driving and other international advanced technology will continue to match on GLORY 580 model in the future.
Mr. Alexander Barus, CO-CEO of PT. SOKONINDO AUTOMOBILE expressed that, adhering to the core value of "All For Customers", benefited from international R&D platform technology advantages, DFSK provided Indonesian urban elites with GLORY 580, a new model with super warranty and reassurance. In the future, DFSK will make intelligentization as its development direction, bring more quality-reliable intelligent new SUV models.
Worry-free Super Warranty Showing Commitment on quality
With the accelerating of economy development, Indonesia has been ranked as the largest auto market in ASEAN for four consecutive years. The Indonesian urban elites with good education background and better economic foundation, has a higher quality pursuit on cars.
Under the guidance of the core value 'All For Users', the new presenting GLORY 580 launched the 7 years/150.000 km super warranty policy, for the Indonesia market,the warranty period, warranty range, warranty value provided by GLORY 580 have created the highest standard in Indonesian automotive industry. Which is not only the commitment of DFSK on the warranty of GLORY 580, moreover, it will provide reliable and trustworthy products and service for customers.
Currently in the Indonesian market, most of the brand models usually have a 3 years/100.000 km warranty period. Only few individual brands have achieved a 5 years warranty. While GLORY 580 announces that all its models enjoy 7 years/150.000 km super warranty, providing more comforts for the Indonesian consumers.
Besides the warranty period, the warranty range of GLORY 580 is also outstanding, which covers whole vehicles and engines, and all high value-added heavy-duty parts are listed, such as engine ECU, steering system EPS, water tank of the cooling system, evaporator of the air-conditioning system, radiator, etc.,make the consumers fully enjoy the worry-free driving Experience.
Moreover, the super warranty of GLORY 580 as 7 years/150.000 km really achieves 'Worth of value,Enjoying with reassurance'. Unlike the extended warranty service, the super warranty of GLORY 580 is provided directly by the OEM, providing professional service in all levels of the country's marketing service providers, which not only makes warranty more guaranteed, but also saving extended warranty cost. In addition, all the service parts are directly provided by DFSK OEM, and the parts 2D bar code system of the parts achieves globally unique precise traceability and anti-counterfeiting.
Worth to mention that, even in second-hand car market, the super warranty of GLORY 580 as 7 years/150,000km will also bring several benefits for both sides of second-hand car dealing. Within the warranty period, even if it is sold as a second-hand car, the super warranty of GLORY 580 will provide warranty service with the second car owner. This provides reassurance for the second car owner, and also provides 5%-10% increase on car value-preserving rate for the first car owner.

Worry free international technology car, with local production
Integrated with international leading technology advantages, the new model GLORY 580 released today is a global strategic model launched based on our multinational R&D platform, which benefits from the world's leading technologies in the smart carfield of the parent company. Through 'manufactured locally with international technology' and strictly control on the international supplier chain, it achieves the comprehensive finishing of product. The stylish design that meets international trends, also creates urban charm on the new model. And also based on the special weather condition, road situation and users' habits, DFSK GLORY 580 had localized the practicability design, to satisfy Indonesia users' needs.
The international leading R&D layout has injected international technology genes into GLORY 580, while locally manufacturing allows consumers to truly feel the sincerity of production and service. Mr. Alexander Barus introduced that, DFSK 's parent company has not only established global R&D platform layouts in the United States, Germany, Japan, and China, achieving effective integration with international advanced technologies, and focusing on the development of forward-looking international leading technologies such as intelligent network connection and smart driving, but also has chose Indonesia as the focus of overseas market, where SOKONINDO automobile factory was officially put into operation last year in Serang. Up to now, this powerful automotive group has completed the layout of its automobile automatic manufacturing base in the United States, China, and Indonesia.
The new-published GLORY 580 will be manufactured in SOKONINDO factory, which is fully in line with the world-class manufacturing standard such as United States, etc., and is designed fully based on the 'Industry 4.0' design concept, for the purpose of creating high-quality SUV products, with high automatic rate, modern advanced production technology and capabilities. At the same time, it also strictly implements lean production management, ensuring from the very beginning that each vehicle created for customers is a trustworthy, and reliable product.
International first-class supply chain is an assured guarantee of GLORY 580. As we know that DFSK has conducted comprehensive cooperation with world-class suppliers such as Bosch, TRW, Delphi, and YFJCI, among which the automatic transmission adopts the famous European brand Punch CVT transmission, and its gearboxes are widely used early 30 world-renowned automobile brands like BMW, Nissan and Hyundai, etc, which have the advantages of mature technology, stable performance and long-term market verification.
The international design team has the service experience of Europe and America famous vehicle brands; international stylish design is the highlight of the GLORY 580. As for the introduction by Andreas Deufel, the Chief Creative Officer of DFSK, The exterior Design follows the trend of international progressive urban style. The Eagle front face is dynamic stretching and splendid at the same time. The front grille, as one of the main features, gives the impression looks of the sun about to rise above sea level; the eagle-eye headlight style fully reflects the modern Design Philosophy. The overall design of the side relies on three main feature lines, which interact in a forward oriented arrangement and focus in their main tension on the wheels. The generous rear light elements integrate LED technology in gemstone shape, which our customers are longing for.
7-seats new model with future intelligent driving
In fact, the GLORY 580 has been tested under extreme conditions such as high temperature, plateau, alpine and mountainous road. Since it was launched in 2016, it has achieved excellent global sales over 300,000 units in a short period, which has been a successful best-selling 7-seats city SUV.
The flexible interior space is an important feature of the GLORY 580. Flexible 7-seat layout, extra large luggage space and over 30 individual storage compartments provide the passenger with convenience, and meet the demands of Indonesian family consumers.
The exhilarating drive experience is one of the factors that city elites are concerned about. GLORY 580 is equipped with a 1.5T turbo or 1.8L engine, which perfectly achieve the balance between Power and fuel economy. In addition, a series of intelligent technology features, such as smart keys, electric sunroof, and tire pressure monitoring system, as well as five-star safety configuration, over 200 NVH designs, which will bring the user a comfortable, memorable and reliable driving experience.
In the technology field, GLORY 580 follows the forefront of international intelligent vehicle trends;In the aspects of intelligent connectivity, GLORY 580 will be equipped with the Lin OS system, which facilitates rapid response, voice and semantic recognition and control technology. It can achieve more than 40 functions such as voice control, remote control, and entertainment, which will bring the user the experience of intelligent convenience, easy dialogue, and mutual understanding. In addition, DFSK also has a promising technical layout in the field of intelligent driving. Currently we are focusing on research and development of intelligent safe driving functions and these smart technologies will be gradually applied to the GLORY 580 and bring a new driving experience to Indonesian consumers.
As the first SUV launched by DFSK in the Indonesian market, the GLORY 580, with reliable high quality and super warranty, as well as advanced technologies in the intelligent vehicle field, will be a new choice for main Indonesia urban group. At present, the GLORY 580 has begun with the pre-sales in terminal showrooms; we also expect its performance in the 7-seats city SUV market.
In the future, the GLORY 580 produced in the Indonesian factory will not only meet the domestic demand in Indonesia, but also meet the market demand in Southeast Asia as well as in the whole world, which will help to achieve the DFSK global strategy of "starting from Indonesia, based in Southeast Asia, and facing the world".